Biggles Goes Alone by W. E. Johns was first published in 1962 by Hodder and Stoughton. There has only ever been one edition in the English language.
Biggles is more or less forced to take a holiday at the village of Polstow. A murder takes place and Biggles can't resist getting involved. This is a typical "village murder mystery" a la Agatha Christie.
Note: The sections below contain spoilers. In particular, the plot subpage (click here) has an extended summary of the narrative in the book
Characters
Edit
The Special Air Police
Edit
Air Commodore Raymond
Biggles
Ginger
There are no aircraft in this story.
Mentioned
Edit
Research Notes
Edit
References to the past
Edit
Biggles mentions that he has been to British Guiana. He was there with Algy doing aerial survey work for an oil prospecting company in Biggles Flies Again.
Incongruities
Edit
Chronology
Edit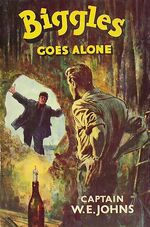 1. London: Hodder & Stoughton, January 1962. 156 pages. Red boards with black titles on the spine. Colour frontispiece and 12 b/w illustrations by Stead. Book list prior to frontispiece (and on dustjacket rear) lists to Biggles and the Missing Millionaire. Number 61 on half title page and dustjacket spine. Price 8/6.[1]
Dustjacket in full colour shows Biggles being confronted by Trelawny in the cave.
There is only 1 edition but for some reason it is not as rare as others in the same category. A good example can be had for about 100GBP. Whether it has or does not have a dustjacket doesn't affect the price by much.
References
Edit
Ad blocker interference detected!
Wikia is a free-to-use site that makes money from advertising. We have a modified experience for viewers using ad blockers

Wikia is not accessible if you've made further modifications. Remove the custom ad blocker rule(s) and the page will load as expected.