Calafrana, more commonly known as Kalafrana, is a town on the southern tip of Malta. Between 1917 and 1946, it was the location of RAF Kalafrana, a marine aircraft base and aircraft maintenance facility. It played an important role in both the First and Second World Wars as the base for RAF anti-submarine and Air-Sea Rescue aircraft on Malta.
In 1946, the base was turned over to the Royal Navy which operated a maintenance facility there until 1979. The base no longer exists as it has been demolished for the construction of the Malta Freeport terminal.
Being a marine aircraft base, it was a natural stopover for Biggles and his squadron during their journey on board the Capricorn (a Short Empire flying boat) from Britain to Alexandria in Biggles in the Orient.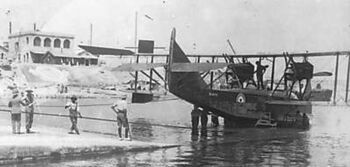 Ad blocker interference detected!
Wikia is a free-to-use site that makes money from advertising. We have a modified experience for viewers using ad blockers

Wikia is not accessible if you've made further modifications. Remove the custom ad blocker rule(s) and the page will load as expected.