In Biggles Follows On, Ginger was coming out of "Airways House" when he spots Von Stalhein going into the Grosvenor Hotel in near London Victoria railway station. Ginger was probably referring to the Empire Terminal building at 157-197 Buckingham Palace Road, which is just a short distance down the street from the Grosvenor. As the terminal also contained offices of Imperial Airways (and later B.O.A.C. and British Airways), Ginger might have conveniently called it "Airways House".
The Empire Terminal was designed by architect Albert Lakeman in 1938 and completed in 1939. The main entrance features a statue "Speed Wings Over The World", by Eric R. Broadbent as well as the "Speedbird" insignia of Imperial Airways. It functioned as the London terminal for air passengers and freight. From here, there were rail connections to the flying boat services at Southampton and the airport, then at Croydon. When Imperial Airways became B.O.A.C. in 1939, the terminal remained in operation and in fact was still in service until at least 1980 under B.O.A.C.'s successor, British Airways. Today, the Grade 2 listed building is home to the UK's National Audit Office.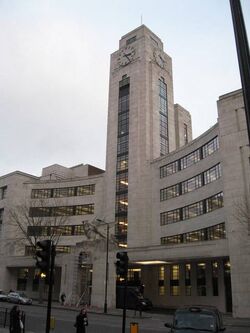 Ad blocker interference detected!
Wikia is a free-to-use site that makes money from advertising. We have a modified experience for viewers using ad blockers

Wikia is not accessible if you've made further modifications. Remove the custom ad blocker rule(s) and the page will load as expected.