One supposes that with cities Johns was familiar with, he did not need to invent fictional hotels. Actually there is no pattern. He uses fictional hotels in London and Marseilles (such as Hotel Europe) for example. Happily, he did not use a fictional hotel when it came to Nice. The Hotel Ruhl which Alice Hall stayed at in The Case of the Obliging Tourist actually existed, although not any more.
Built in 1913 on the site of the older Hotel des Anglais, for many years the Ruhl was a landmark in Nice, with its prestigious address of No. 1 Promenade des Anglais. It was designed by Charles Dalmas, a famous Belle-Epoque architect who also designed many of the famous landmarks on the Riviera. The Ruhl was outfitted in the tradition of the grand "palace" hotels of the 1920s and 1930s and hosted many celebrities such as Hemingway and F. Scott Fitzgerald. Considered a luxury hotel where people went to "live it up", one wonders how Alice Hall could have afforded it. Perhaps she really did save a lot over a few years, or perhaps Thomas Cooks offered a really good package.
Indeed, when Ginger tailed Roderick Canson to the Ruhl in Biggles and the Black Mask, he noted that it was one of the largest in town and also one of the most expensive. Canson intended to do himself well, so Ginger thought to himself. Later Ginger heard Canson telling Rawlings not to change too much money at the casino.
The Hotel Ruhl was demolished in 1970 and the Le Meridien Nice stands in its place today. The casino next to the Hotel is still there and there is still a taxi rank at the corner of the hotel adjacent to the Jardin du Roi Albert as Ginger found.
Years earlier, in 1942, in Biggles Fails to Return, Algy stopped by the Ruhl Plage, a private bathing beach, restaurant and bar on the beach just down from the Promenade across from the Hotel Ruhl. He was looking for Jock's Bar, another beach bar. He found it two establishments on from Ruhl Plage. Ruhl Plage still exists today at the head of the promenade.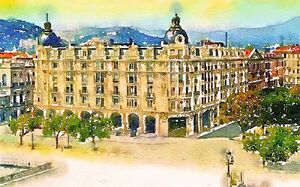 External Links
Edit
Ad blocker interference detected!
Wikia is a free-to-use site that makes money from advertising. We have a modified experience for viewers using ad blockers

Wikia is not accessible if you've made further modifications. Remove the custom ad blocker rule(s) and the page will load as expected.