Penang International Airport, previously known as Bayan Lepas International Airport or simply Penang Airport is located on the island of Penang, off the west coast of Peninsula Malaysia. Established in 1935 with a 950-yard paved runway and a 800-yard grass strip, it is one of the oldest airports in the country. By 1936, Imperial Airways was using Penang as a stopover for their London to Australia route, and also as a connection to their Penang to Hong Kong route. The airport is still an important airhub today, being the 3rd busiest airport in Malaysia, with domestic and international links to numerous destinations, with much of the traffic being passengers visiting the popular tourist destination of Penang Island.
In Biggles Makes Ends Meet, Algy and Bertie stopped by Penang, after covering Kutaradja Airport and Phuket Airport, on their round of enquiries about an aircraft operating over the Nicobars. They would later fly from Penang to their rendezvous with Biggles and Ginger at Kuala Lumpur Airport. Later, Bertie shadowed Colonel Black's Dakota from Kutaradja to his secret island base on the pretext that he thought the Dakota was heading for Penang. He also wanted to go to Penang but didn't know the way.
During Biggles' time, Penang Island was a British colony, part of the Straits Settlements. It would later gain independence by joining the Federation of Malaya in 1957, which became the Federation of Malaysia in 1963.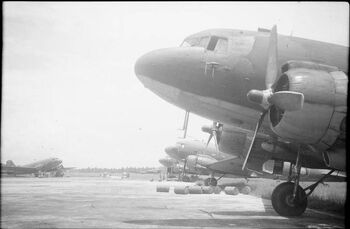 Ad blocker interference detected!
Wikia is a free-to-use site that makes money from advertising. We have a modified experience for viewers using ad blockers

Wikia is not accessible if you've made further modifications. Remove the custom ad blocker rule(s) and the page will load as expected.