Located on Phuket Island on the west coast of Thailand, Phuket Airport serves the popular resort island of Phuket. It is not clear when the airport was built but there are records going back at least to 1945 about aircraft movements there. Today, it is Thailand's 3rd busiest airports. There are numerous daily domestic flights to and from the capital Bangkok as well as other major cities in Thailand. The airport also hosts a large number of international airlines with direct links to Europe, Asia and Australasia.
Phuket (Johns calls it Puket) appears once, in Biggles Makes Ends Meet. Biggles, investigating piracy involving an aircraft around the Nicobar Islands, reasoned that the aircraft must call for fuel somewhere. The two nearest airports were Phuket and Kutaradja (in Indonesia), both about 300 miles away. So Biggles sent Algy and Bertie in the Otter amphibian to these two locations to make enquiries.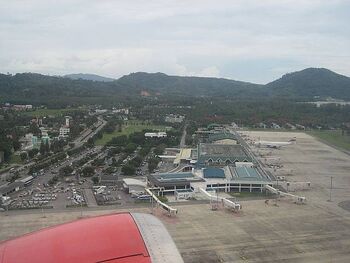 Ad blocker interference detected!
Wikia is a free-to-use site that makes money from advertising. We have a modified experience for viewers using ad blockers

Wikia is not accessible if you've made further modifications. Remove the custom ad blocker rule(s) and the page will load as expected.