The island of Tola, where most of the action in Biggles Takes It Rough takes place, was a small uninhabited island in the Western Isles (the Outer Hebrides).
The island was the ancestral home of the Macaster clan. John Macaster bought the island from the Crown on a 100-year lease with the intention of developing and repopulating it . His grandson Roderick Macaster inherited the family fortune and decided to continue this project. Unknown to him, Neville Norton, a criminal mastermind, had been operating an illegal whiskey still and a hideout for criminals on the run on Tola.
Roderick described Tola as an island in a crescent shape, four miles long and a mile at the widest point. It was located 30 miles from the Butt of Lewis and 4o miles from the mainland.
On the map below, a red arc of 30 miles radius has been drawn from the Butt of Lewis. Tola is somewhere on this arc. As can be seen, most points on the arc are nearer than 40 miles from the mainland. The only spot which fits is around the 1 o'clock position, north northest of the Butt of Lewis somewhere south of the island of Rona. This location is plausible as Biggles had to fly through the Minch to get there and Roderick describes the island as being on the fringe of the Gulf Stream which laps the north of Scotland.
Tola is a fictional island.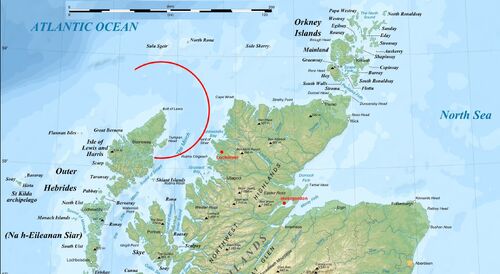 Ad blocker interference detected!
Wikia is a free-to-use site that makes money from advertising. We have a modified experience for viewers using ad blockers

Wikia is not accessible if you've made further modifications. Remove the custom ad blocker rule(s) and the page will load as expected.